Issue No. 1 | March 2016
Here you'll find all of the information included in our most recent newsletter.
Center Theatre Renovation
Rex, Rob, and several star volunteers renovated the Center Theatre in February over a two week period. They installed beautiful Meydenbauer seats – we have some leftovers to share! – expanded the floor to make more leg room, added new beautiful blue lighting, and put on fresh coats of paint in the lobby. They truly breathed new life into our special performance space in the heart of the Seattle Center. There are plans to continue the renovations by installing new carpet and much more. 
See the Before & After Photos
We couldn't be more excited for the changes!
Our community-driven performance calendar is re-invigorated and ready for YOU. Check out 
ArtsCrush.org
to find out what's happening in Seattle and the Puget Sound region, and to create your own events! To add your events to the performance calendar: create a new user account, input your event's dates and times, add ticket info, choose a location, upload images, and more! Now people looking for events in Seattle and the surrounding area will see what you have to offer! We hope you'll use
ArtsCrush.org
to keep track of your favorite producers and discover new events like plays, improv, comedy, festivals, music, and gallery openings. What do you think of it? We want to
hear from you
. Operating a community-driven arts calendar depends on your input! Let us know when you would like to see an improvement or a new feature to make your experience contributing to the calendar that much easier.
Advocacy Focus
Executive Director Karen Lane attended Arts Advocacy Day in Washington, D.C. on behalf of TPS and 
Washington State Arts Alliance
(WSSA). She currently serves as State Captain in
collaboration with 
Americans for the Arts
. On March 8, she met with the offices of Senator Patty Murray and other legislators to raise awareness of funding and issues for
education, veterans, and more. 
Americans for the Arts – Arts Advocacy Day
As a Board Member of WSSA, Karen is working to bolster a statewide arts agenda in Olympia. If you would also like to see a stronger statewide arts agenda or would just like more information about how you can get involved,
reach out
.
APASO 2016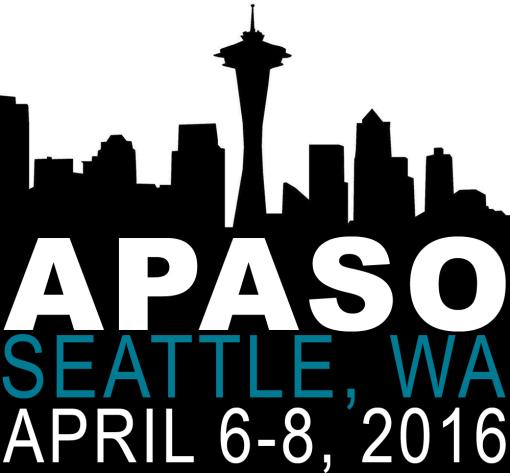 TPS is once again hosting the annual conference of Association of Performing Arts Service Organizations (APASO) from April 6 to April 8. It is our first time hosting since 2004 and we are overjoyed to share our city with sister service organizations from across the country. We will be touring the 12th Ave Arts space, take a ferry ride to Bainbridge Performing Arts, and do a tour of downtown theatres in Seattle. Registrants will also have free time to see shows, attend museums, and more. It's our opportunity to show off the Emerald City in style. This year, our keynote speaker is Todd London, Executive Director of UW School of Drama. Registrants will also participate in small group discussions with their counterparts at sister organizations: development associates, marketing coordinators, program managers, and others. Speakers from Chicago, Boston, and TheaterMania will lead discussions about new partnership models, diversity equity and inclusion, and technology solutions.
Member Service Announcement
This is just a friendly reminder to update your TPS profile! Now that we've gone through UGAs and you've had to create a new profile after joining, producers, casting directors, freelance directors, and other TPS members use our database to search for profiles like yours, so let them see what you've been up to and let them get in touch! Don't forget to upload your resume, recent headshots or production photos, and maybe even fill out the bio/about me section. TPS Online profiles are a great way to stay up-to-date. And if you have any questions, please reach out your
Member Liaison, Catherine Blake Smith
.
From the Desk of… Shane Regan!
Can you believe it?  We're two-thirds of the way through the 2015-2016 season schedule. Thanks for sticking around in what looks to be our busiest season so far. Here are some interesting things:
92 plays assigned to nominators, and we might break our record for most plays in a season!
24 new plays assigned, which is as many to the FULL 2014-2015 season!
Unified General Auditions
Unified General Auditions (a.k.a. UGAs or Generals) were a great success this year! Over 4 days from February 29 to March 3, we hosted more than 100 auditors who saw nearly 400 actors audition in the newly renovated Center Theatre.  And on February 24, we held our first-ever
UGA Orientation
, which also included a Welcome to all the new TPS members. Shane Regan talked in detail about what to expect at the audition – where to go, what to say – and members had the opportunity to meet each other, be on the stage, and even do audition coaching with Chelsea DuVall! We could not have done any of UGA week without all of the directors, producers, actors, and volunteers who made it possible. Thank you! We look forward to seeing you next year.
Hosting the Fringe
TPS hosted the
Seattle Fringe Festival
, along with with
Annex Theatre
and 
Eclectic Theater
. Featuring 22 local plays over 2 weekends, we used the Center Theatre, Black Box Theatre, and Conference Room to present new and local work, sometimes even simultaneously.
We are proud to support The Fringe!
Do You Hire Independent Contractors?
Washington state continues to do its payroll audits of arts organizations. TPS recently went through the rigorous preparation for its own payroll audit, and we learned a great deal. What is a state payroll audit? What is the state looking for when they closely examine how we pay employees, independent contractors, especially as a nonprofit organization? Specifically, Washington state is looking for discrepancies in the classification of independent contractors. We want to share with you what we've learned and 
how to apply it to your organization
, especially if you are preparing for a payroll audit.
Who we are: TPS Staff
We've undergone some changes with the new year, bringing in two new full-time employees as we say a fond farewell to
Marianna de Fazio – 
who was with TPS for four years!
Karen Lane, Executive Director
Chelsea DuVall, Executive & Development Associate
Catherine Blake Smith, Member Liaison
Shane Regan, Programs Manager
Rob Raas-Berquist, Facilities Manager
Rex Carleton, Technical Director
Karen Shay, Bookkeeper
 Learn more about Chelsea & Catherine
TPS QUICK LINKS